Plastic parts are not welcome at this time, and surely not outside. Just look...
(I help you: flashing light indicators and radiator grill badge, that's all)
Rest is only metalic parts, chromed bumpers with rubber, aluminum radiator grill.
Alas, for the next models, the radiator grill will be made with black plastic, then, the badge will dissapear, and the four metalic letters 'FORD' will be placed on the right of the radiator grill (plastic letters), instead of the top of the hood.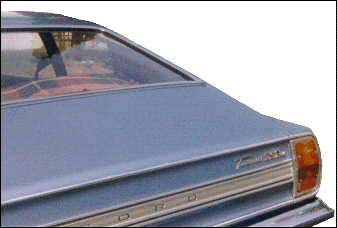 Rear side of the Coupé is (in my opinion) very well drawn. Only Back lights are build in plastic.
You can find the 'Taunus' logo on the right, followed by the equipment level: XL.
Ford oval logo will reappear latter. (it is only set on the doors footboards). The 4 letters are pressed on the aluminum bar.



Sport 'GT' models have no aluminum bar, but a specific black color.
Rear window is almost square, but so tilted, that rear visibility is quite bad.